About provider
Dr. Cline-Fortunato, as an oral and maxillofacial surgeon, manages a wide variety of problems relating to the mouth, teeth, and facial regions. She practices a full scope of oral and maxillofacial surgery with expertise ranging from dental implant surgery and wisdom tooth removal to corrective jaw surgery. This also includes techniques designed to rebuild bone structure with minimal surgical intervention and optimal patient comfort.
Scotts Valley
223 Mount Hermon Road, Suite B
Scotts Valley, CA 95066
Website
Stemodontics certified
Scotts Valley Oral & Maxillofacial Surgery has Stemodontics-certified staff members who are ready to assist in the collection and storage of stem cells through Stemodontics.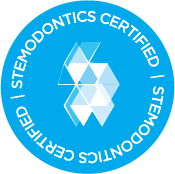 Ready to enroll?
Save the future by enrolling today
By preserving your child's stem cells with Stemodontics, you are joining thousands of forward-thinking people who have taken control of their family's future health.