About provider
Our team works together to provide optimal treatment catered to your specific needs. Dr. Reddy performs the full scope of oral and maxillofacial surgery in a safe and serene environment, where you can expect proactive care with a personal touch. We proudly offer stem cell banking services because we care about the health of our patients today, tomorrow, and in the years to come.
Redwood City
11 Birch St
Redwood City, CA 94062
San Jose
4205 San Felipe Rd, Ste 200
San Jose, CA 95135
Oakland
485 34th St, Ste 100
Oakland, CA 94609
Website
Stemodontics certified
Dr. Raju Reddy Oral and Facial Surgery has Stemodontics-certified staff members who are ready to assist in the collection and storage of stem cells through Stemodontics.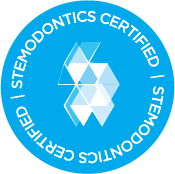 Ready to enroll?
Save the future by enrolling today
By preserving your child's stem cells with Stemodontics, you are joining thousands of forward-thinking people who have taken control of their family's future health.